Jr.N.T.R's Movie Janatha Garage review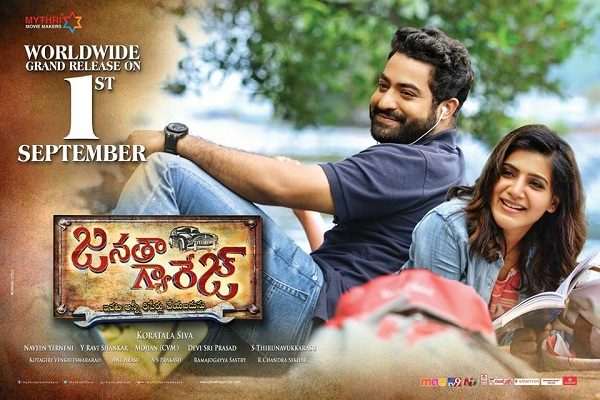 Junior N.T.R's Movie 'Janatha Garage'Review
Date of Release :  1stSeptember,2016
Starring :Jr.N.T.R,Samantha,Mohanlal,Nithya Menon
Director :Koratala Siva
Producer : Naveen Yerneni,Mohan,Y.Ravi Ravi Shankar
Music Director :Devi Sri Prasad
Tollypop's Rating:3/5
The day, which the movie lovers and N.T.R fans have excitedly   been waiting for has finally come.It's  the worldwide release of 'Janatha Garrage'.The director Koratala Siva , already with two block blusters is  on cloud nine and filled with full energy to make a hatrick.Let's see as to what is in store. Here's Jr.N.T.R.'s movie 'Janatha Garage' Review for you from Tollypop
       N.T.R's role (Anand) in the movie is an environmental lover and does his best to save the nature. One day he happened to meet with Satyam(Mohan Lal)  who holds a garage and cares about welfare of people.Anand(Jr.N.T.R) picks a fight with Satyam (MohanLal) and his garage people and later both connect with each other by virtue of  their positive attitudes.As a result,under some inevitable circumstances, Sathyam hands over the garage to Anand. And then what is going to happen is the crux of the story.
Mohan Lal does the utmost justice to his character and he once again is proven to be a complete man. Needless to say that it is his character which stands a strong pillar to the movie. film. His talents are wonderfully showcased by the director Koratala Siva.N.T.R fans may slightly get disappointed because their star stepped out of his star image and did great justice to his character. His performance in the second half is simply superb.As per the demand of their roles, both N.T.R and Mohan lal maintained consistency of expressions.A few dialogues of N.T.R about importance of nature are very impressive. When melodrama is at its peak,Mohan Lal and N.T.R elevate the movie very well.As usual,the beautiful dolls samantha and Nithya Menon did their best even though their roles are not so important to the story.Other supporting actors did their decent job.
Still,the movie has a few draw backs.Samantha and Nithya Menon do not have much screen space to act .They just come only for songs.
The story narrated by the director is too slow to establish the simple line.
The hero's character lacks in clarity and the climax is not that interesting and makes the audience quite restless.Many characters are there just for name sake.
Songs and background score  given by Devi sri prasad is superb. Movies production values are worth considering. Camera work is also very nice.
Over all, it is one time watch movie with a few drawbacks.