Best Tollywood movies of 2016 till date
tollypop
0 Comment
2016 best movies, 2016 blockbusters, 2016 feel good movies, 2016 good movies, 2016 hit movies, 2016 hits, 2016 top movies, Best telugu movies, Best telugu movies of 2016, current year best movies, current year hits, good movies of 2016, Hit telugu movies of 2016, latest feel good movies, top telugu movies, top telugu movies of 2016, Watchable movies of 2016, Watchable telugu movies of 2016
 Top Telugu movies/ Best Telugu Movies 2016 till date
 The following are the Best Telugu Movies 2016 which are worth-watching The Fans  of star actors and movie lovers
have got good treat of feel good movies like 'Oopiri' and 'Pelli Choopulu'.Tollypop wishes you to have a look at them
and cherish.
Title                                             Director                                               Cast
 Killing Veerappan                  
Ramgopal Varma
                   Shiva raj kumar,Sadh Orphan,Sandeep Bharadwaj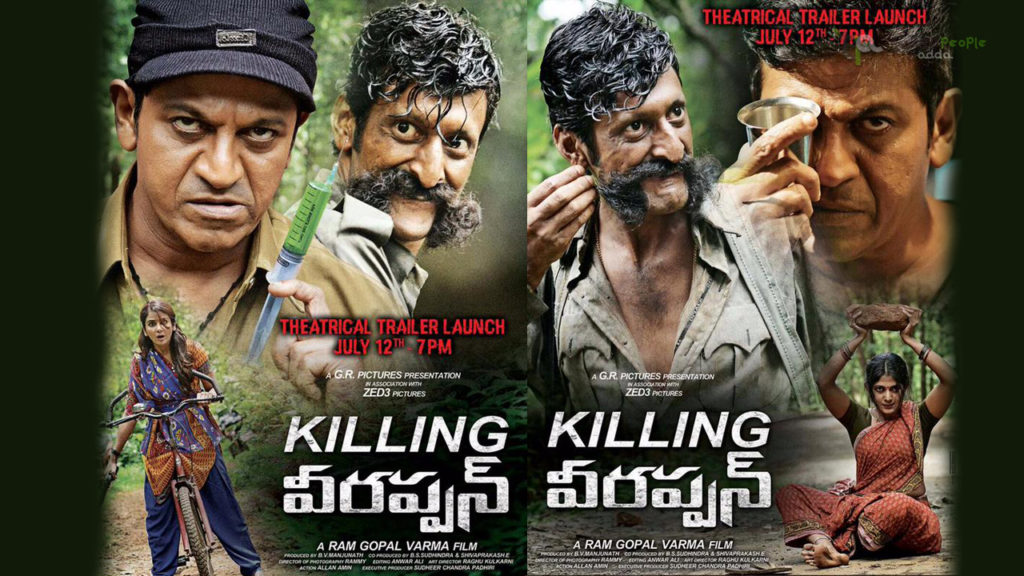 Killing Veerappan,the docudrama thriller which released in both Kannada and Telugu versions.The Telugu version released on Jan 7th 2016 where as kannada version released on 1st jan. Indeed, the story revolves around the then bandit Veerappan who the Karnataka and Tamilnadu police encountered under Operation Cocoon Indeed, the sources say that critics praised the performances, background score, cinematography, screenplay, casting, and direction and the film performed well at the box office in the both versions.
Title                                  Director                                                     Cast
Nannaku Prematho            Sukumar                                      Jr.N.T.R, Rakul
           Abhiram's( JrN.T.R) father, Ramesh Chandra Prasad(Rajendra Prasad) was cheated by his close friend ,Krishna Murthy (Jagapathibabu). As a result, Ramesh Chandra Prasad starts living a normal life changing his name and identity.When he is down with some physical ailment he reveals the past to his 3 sons out of whom Abhiram takes it to heart and sets out to take revenge against Krishna Murthy.
  Consequently, the crux of the story shows how Abhiram manages to get back the lost property from Krishna Murthy and fulfils his fathers wish.
Title                                             Director                                                     Cast
Nenu Sailaja                                  Kishore Tirumala                       Ram Pothineni,Keerthi Suresh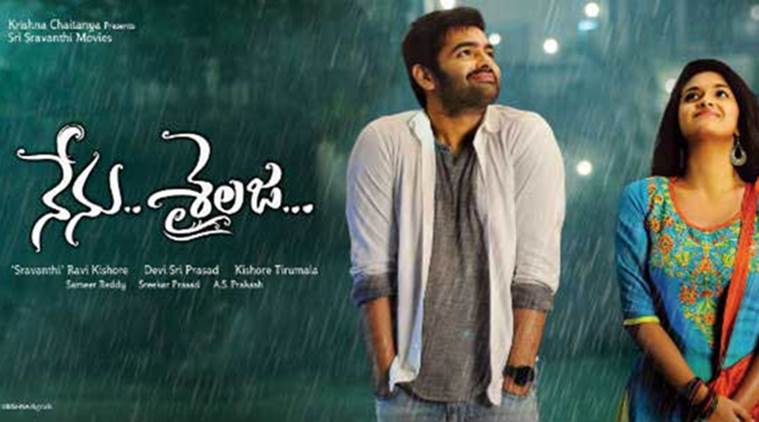 Nenu…Sailaja
              Hari(Ram) is a normal dreamy young chap who wishes to enjoy love with some beautiful girl. Since luck doesn't favour him, Out of disappointment, he withdraws from his trials.As is destined, he comes in contact with  a good looking girl Sailaja (Keerthi Suresh) and has a good time with her.When he expresses his love,she forthright rejects him .By the degrees of time, certain favourable circumstances occur  by means of which he succeeds to get back his love.
Title                                             Director                                                     Cast
Express Raaja                                   Merlapaka Gandhi                 Sharwanand,Surabhi,Brahmaji
 Express Raja
            This movie is an out and out comic entertainer which evokes laughter in the Theaters.  There are lot of hilarious punches for the audience to have a heartfelt laugh. Even though there is no much logic in the scenario of the movie,it definitely promises the audience to unburden their emotional blocks for quite a some time.
Title                                                      Director                                                     Cast
Krishna gadi veera prema Gadha   Hanu Raghavapudi                 Nani,Mehereen pirzada
Krishna Gaadi Veera Prema Gaadha:
           Krishna(Nani) is a frivolous guy in the faction area of Rayalaseema who falls in love with Mahalakshmi(Mehreen).But he never dares to express his love to her family.When  Krishna goes to her house to meet Mahalakshmi's brother in her absence , he finds that her family is killed by  their rival group in the village.Luckily, Mahalakshmi's three nephews are left safe.Then he leaves her house taking the kids to save them.After some struggle, he some how manages to save the kids and wins his sweetheart.
Title                                             Director                                                     Cast
 Kshanam                                              Adivi Sesh                               Adivi Sesh,Adah Sarma
Kshanam :
                           Rishi(Adivi Shesh) lands in India from The U.S.A on the request of his Ex girl friend  Shwetha(Adah Sharma).There he gets to know that Shwetha's daughter has been kidnapped.When he gets this issue to police, to his surprise, he finds the police is indifferent in this case.Then, he shoulders the responsibility of unravelling the truth and finally finds out that it is a simple abduct case.
Title                                             Director                                         Cast
 Aa..Aa…..                                     Trivikram Srinivas                 Nitin,Samantha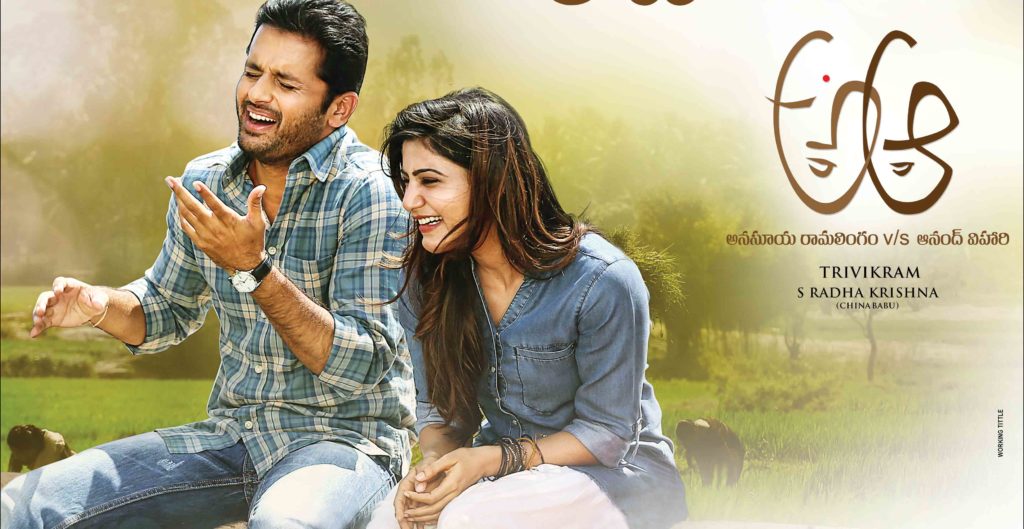 Aa..Aa…..
                    Anasuya(Samantha) is  daughter of loving father (Naresh) and domineering mother( Nadhiya). Her mother decides  to set her marriage with a rich person. On her father's advice, Anasuya goes to her aunt,s house to spend some time there.Here, she falls in love with Anand (Nithin). But circumstances compel him to tie a knot to Nag Valli(Anupama Parameswaran) because of some personal issue. The crux of the story is how Anasuya handles the situation to possess Anand in her life.
Title                                             Director                                                     Cast
Oopiri                                             Vamsi paidipalli                           Nagarjuna, Karth,Tamanna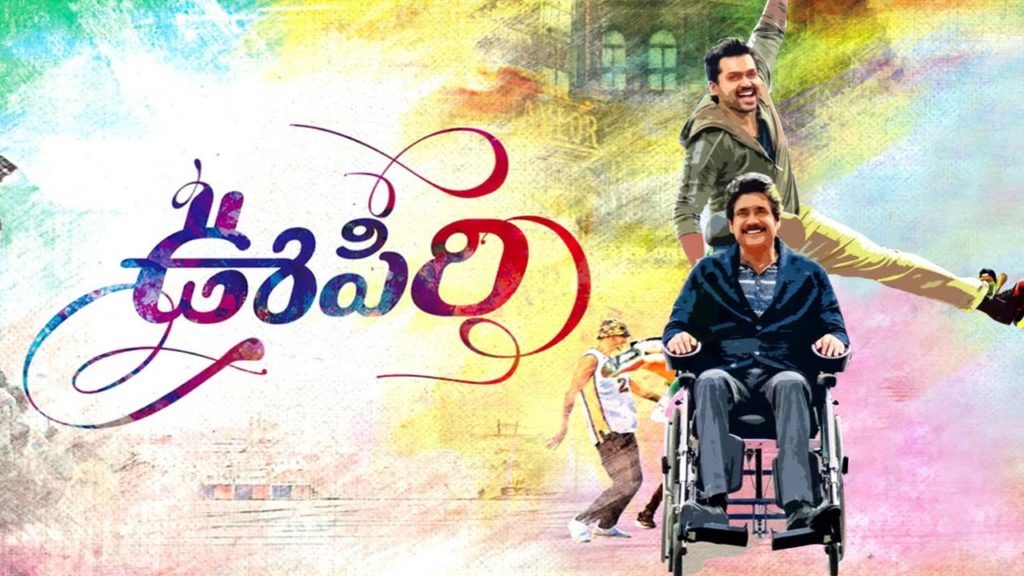 Oopiri
We can consider this is one of the best movies out of those which have released in 2016.
              Vikaram Aditya(Nagarjuna) is a  billionaire tycoon who suffers from paralysis. To come out of the monotonous life.he wants to appoint a person who can put him in pleasant and cheerful mood.There he finds an outspoken and happy-go-lucky guy,Seenu (Karthi).Aditya believes that Seenu is a right person to bring joy in his life and takes him as his assistant.
                     Seenu endears himself to Aditya with in a short span of time by his lively attitude. Seenu's lively presence totally changes Aditya's life.It takes no time to know that Seenu's life is not bed of roses and he also has his personal problems. The crux of the story is as to how both boss and his assistant manage to sort out their problems and stand for each other in life.
Title                                             Director                                                     Cast
Pellichoopulu                                 Tarun Bhasckar                                  Devara Konda, Ritu Varma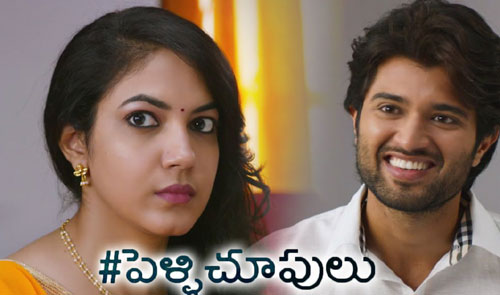 Pellichoopulu:
                         Prashanth(Vijay) is frivolous sort of a guy. He is passionate to become a chef. In spite of  his father's repeated instructions he would not change his carefree attitude.Getting vexed , his father decides to get him married.In this process he encounters Chitra (Ritu Varma)  who  wants to start a food truck business.He joins hands with her in the business  so as to satisfy his rich would be father- in- law who asked him to gain some business experience. At this juncture,Prashanth undergoes sort of emotional struggle between the girls. How he manages to get over this is the crux of the story. Hence,This movie is one of the best Telugu movies of 2016.
       Majnu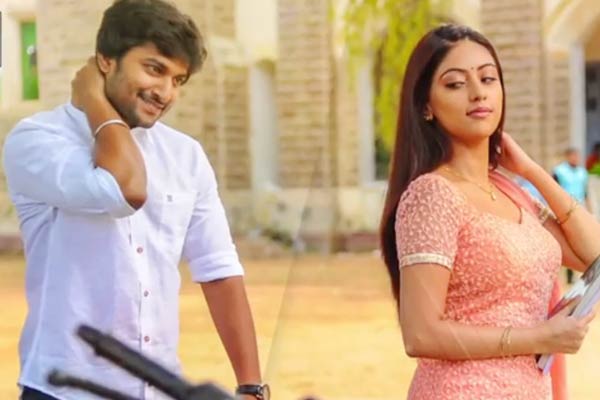 Name of the Movie: Majnu
Producers:Geetha Golla'P.Kiran
 Screen-play and direction:Virinchi Varma
Starring: Nani,Anu Emmanuel,Priya shri
Music:Gopi Sunder
       The movie 'Majnu' was released on 23 Sept 2016 in India and over seas. It is out and out romantic drama. The director of the movie is Virinchi Varma who gave the decent hit 'Uyyala Jampala' two years ago.
As for Nani, he has already made a hatrick with 'Bhale Bhale Magadivoy',Krishna gadi veera Prema Gaadha' and 'Gentle Man'. He is on full swing to make a second hatrick after the movie 'Majnu' recorded a silent hit at the box office.
The movie lovers  find it fresh and  interesting love story which show the delicate  emotions of three lead characters.
The movie tells about an assistant director who works for 'Bahu Bali' movie and makes an attempt to work on a romantic comedy  subject.
The movie became hit just because of the director Virinchi Varma and the lead role played by Nani. The director has already bagged a Hit with "Uyyala Jampala" and now he came up with different love story with excellent scenario. Major portion of the credit should go to him.
Needless to say about Nani's natural performance. His mannerism,style of his own,gestures of the body  and comedy timing are simply superb.
Two female lead roles played by Anu Emmanuel and Priya Shri are making their with this movie.   they look beautiful and fresh and their chemistry really worked out with Nani.
Tollypop wishes all the very best to everyone of the movie crew.