Mahesh Babu Career Best Movies
 Mahesh Babu  Best Movies of his career
As we all know, Ghattamaneni Mahesh Babu is one of the Tollywood leading actresses. The following are some of Mahesh Babu Best Movies.
Mahesh Babu, son of the then super star Krishna, was born on 9 Aug 1975 in Chennai. He was brought up and he had his education in the same city. He often used to visit his father's shooting spots and have a lot of fun.
Gradually, he grew in interest about acting.  At the age of 4 years, he happened to get a chance to act as a child artist. And it was in the movie 'Needa' directed by Dasari Narayana Rao. Subsequently,he acted in 8 movies as a child artist.
Mahesh Babu's Films As a Child Artist
 'Poratam', 'Shankharavam','Bazaar Rowdy', 'MugguruKodukulu', 'Gudachari 117′, Koduku Diddina Kapuram','Bala Chandrudu', 'Anna Tammudu'.
     Mahesh Babu Debut Movie
Mahesh Babu started his film career as a lead actor in the movie 'Raja Kumarudu 'in 1999. Raghavendra Rao directed the film.  The movie became successful and movie lovers and Krishna fans fondly started calling him 'Prince.
   He won Nandi Award for best male debut for this film.
Following this, he worked for 'Vamsi', and 'Yuvaraj'. But they did n't perform well at the box office.
      Mahesh Babu has acted in 22 movies so far out of which five films  recorded  super hits at the box office. Tolly pop is submitting them here for you to check out..
     Mahesh Babu Best Movies-Murari
     Although the movies 'Vamsi' and 'Yuvaraj'  disappointed the audience,very soon he came up with the block buster movie 'Murari'. Krishna Vamsi directed the film which got him a break through. Mahesh Babu treats this movie as an important one in his career. And we can also consider this is one of Mahesh Babu Best Movies.
  He received Nandi special jury Award for this movie.
The movie 'Murari 'starred Mahesh Babu, Sonali Bindre and Lakshmi in lead roles.  And the movie    released on 17 February 2001.
Story
Murari(Mahesh Babu) is grand son of Sabari who is named after his grandfather(Sabari's husband). He dies 48 years ago due to some curse. Hence, she treats Murari with great respect believing that he is an incarnation of her husband.
Two centuries ago, a Jamindar tries to steal Durga Devi's idol in the temple in an intoxicated state.Then, Devi gets furious and she not only kills him but also curses his heirs to die for every 48 years. By the power of the curse, some accidental death happens to one male heir in the family at the end of 48 years.
Under these circumstances, the current year happens to be the end of 48 years and as per the curse Devi has to target Murari. Later, Murari deals with the superstitious belief of his grand mother through his will power.
In fact, the origin of the movie is based on a real story. The movie got three Nandi awards, best feature film,best supporting actress(Lakshmi) and special jury.
In this movie, Mahesh Babu performed his best.The way he shows his gestures and movements in most of the scenes remember his father to the audience. It feels like he did not act the role but lived the character completely.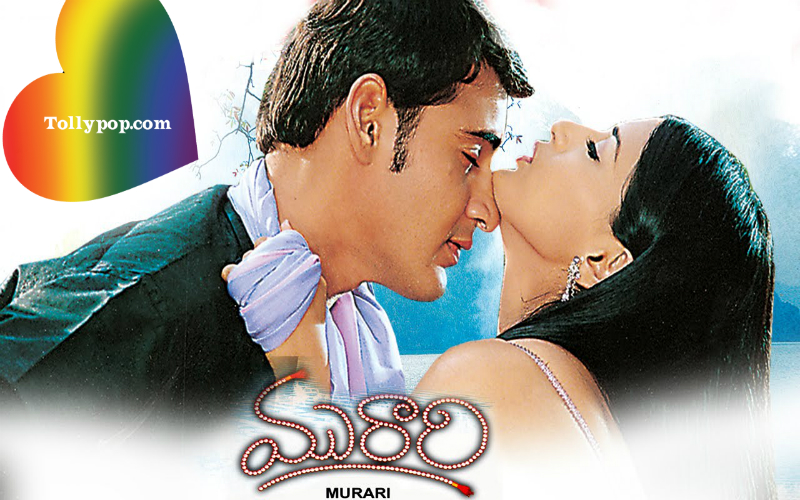 Mahesh Babu Best movies – Okkadu
    Later, success embraced Mahesh Babu with the biggest block buster 'Okkadu released in 2003 , 'co-starring Bhumika Chawla. Guna Sekhar was the director . With out doubt, This movie stands as one of Mahesh Babu Best Movies.
Story
      In this movie Mahesh plays a role named Ajay who is a Kabbadi player. In certain circumstances, he saves swapna(Bhumika) from Obul Reddy, a wicked factionist. Ajay decides to help her out and makes arrangements to send her to the U.S.Indeed, Swapna feels very happy and secure with Ajay's concern about her and so she wishes to live with him for ever.The following proceedings reveal as to how Ajay saves Swapna Permanently from the factionist and wins National Championship in Kabbadi and fulfills Swapna"s wish.
Mahesh Babu received the first filmfare award for his best performance in the movie.

Athadu
Mahesh Babu's next block buster movie was'Athadu' released in 2005. Trivikram Srinivas directed the movie starring Trisha,Sonu sood, Nazar,Kota srinivasa rao and Prakash Raj in lead roles.
Mahesh received Nandi Best actor award for his performance in this movie.
Story
Nandu (Mahesh Babu) is a professional killer. He carries out his criminal operations with the help of his bad buddy (Sonu Sood). When he is on a criminal operation to kill a big politician,the police notice him and Nandu escapes from the crime scene.In this circumstance, he happens to meet Pardhu who runs away from home and wants to return after 12 years.
Accidentally, Nandu becomes the cause for the death of Pardhoo. Then, Nandu finds out the address of Pardhoo and enters his house in a  village to save himself  from the police. The rest of the story reveals about how Nandu supports Pardhoo's family and gets himself over all  the problems.
Mahesh Babu showcased tremendous performance in this movie.He impressed the audience a great deal by his looks. He very much suited to Nandu's character and did his best in transforming  from the character of Nandu to Pardhoo.
   Mahesh Babu Best Movies – Pokiri
Mahesh's another All time watchable movie is 'Pokiri' released on 28 April 2006. Puri Jagannadh directed this movie starring illeana,Prakash Raj,Nazar and Ashish Vidyardhi in other lead roles. And he takes them in to custody and fulfills his love with Sruthi.
In the movie characterization of Ajay and Pandu were Tremendous. And also, Mahesh did utmost justice to these roles.
The movie grabbed four Nandi Awards and two filmfare Awards.
Story
Ajay(Mahesh Babu) is an undercover police officer. He joins his hands with a mafia gang to know their nefarious activities. The gang's kinpin is Ali bhai(prakash Raj). AJay changes his name as Pandu in the mafia gang. Pandu and Sruthy fall in love with other and outwardly he seems to be unwilling to express his love  under the pretext of his untoward activities. The rest of the story tells about how Ajay gathers all information about mafia gang. And,  he takes them in to custody and fulfills his love with Sruthi.

   Mahesh Babu Best movies – Srimanthudu
     The next block buster of Mahesh Babu was 'Srimanthudu' released on 7 Aug 2015 starring Shruthi Hasan,Jagapathi Babu, Rajendra Prasad in other lead roles. Koratala Siva was both writer and director of the movie.
 Story
Mahesh Babu Played a role named Harsha in the movie 'Srimanthudu'. He is the legal heir of a multi millionaire father,Ravikanth(Jagapathi babu). Harsha comes to know about his father's village Devarakonda through her friend Charuseela(Shruthi Hasan) and he decides to adopt the one.
In this connection, he stays in the village to improve the people's living standards and wishes to bring in necessary facilities.This makes the village baddy Sashi(Sampath Raj) and his brother Venkatratnam(Mukesh Rushi) angry.
The story of the movie sees the end after Harsha's ideologies are implemented through some struggle caused by the baddies of the village. Mahesh Babu performed in emotional scenes in an excellent manner. Surely ,this movie can be considered the best of his career.
Mahesh Babu received the South Indian filmfare award for his best performance in the movie.
 Mahesh Babu Handsome Photos