Telugu Movie Inspirational songs
Telugu Movie Inspirational songs
You must have heard  some inspirational song on FM radio or Mp3. Then, how did you feel like? Did the song get you to release certain blocks in your consciousness? for sure, it could have happened. Indeed,such a power inspirational songs have . On listening to them,you will feel a sort of comfort in your mind. The next time when you are in depressive mood,put on the Inspirational songs  listed here under. Hence, you can build up  your morale. The lyrics and tunes are so comforting that you will soon come out of sad feeling.
        Everyone in the world needs inspiration or motivation in every aspect of life. Unless we get inspiration from the books, the people around us and some Inspirational songs, it is not much possible to experience success. Mostly ,we would like to take inspiration from the people who started their career at an ordinary level and became great with in certain period of time.
        Mother Teresa, Mahatma Gandhi ,Abdul Kalam and many great people's success stories and their life style inspire us a lot. Actually, we need to feel inspired by their selfless attitude and creative thinking. Really ,we feel like appreciating their showing difference in their life style compared to others.
Telugu Movie Inspirational songs
     Those who became great were not afraid of  anybody  and anything to do good to the people. Even though they achieved great things, they were humble and down to earth. Truly, the great people teach others what they follow and live. Unless they follow , what they say won't resonate our hearts. That is why such great people who did only good to the world will remain in our hearts for ever even after their death.
           The following Inspirational songs  get us to remember some of the great people and their great service to humanity in one way or the other. Besides the lyrics, the composition of the songs too are more inspiring. In the song 'Manishai puttina Vadu Karadu Matti Bomma' The lead character inspire the people who are illiterate, ignorant and innocent. He describes the great people like Alluri Seetha Rama Raju, Lord Rama and Ekalavya  by singing the song. Obviously, music has got power to sooth as well as motivate people. Most people are under misconception that they are weak and not good enough to achieve what they really want. However, stories of great people and the inspiring songs will definitely help us to bring out the magic from with in ourselves.
        The another song 'Mounangane Edagamani Mokka Neeku Cheptundi' Really  inspires and motivates us in all aspects of life. In the movie the female lead role sings the song on the stage in front of the physically disabled. The meaning and feel of the song really penetrates in to their hearts. In fact the song inspires everyone irrespective of age, gender and social or financial status.
      Tollypop has collected a few inspiring and motivating songs and presenting them  to you. May the songs inspire and motivate you to reach your goals.
(1)Manishai Puttinavadu Kaa Radu Mattibomma…
(2)Kadalirade Tane Vasantam….
(3) Nammaku nammaku Ereyini…….
 (4) Epudo Apudu Evaro Okaru……..
 (5)Niggadeesi Adugu Esigguleni jananni……
(6)Eduryodhana Dussasana Durneethi lokamlo….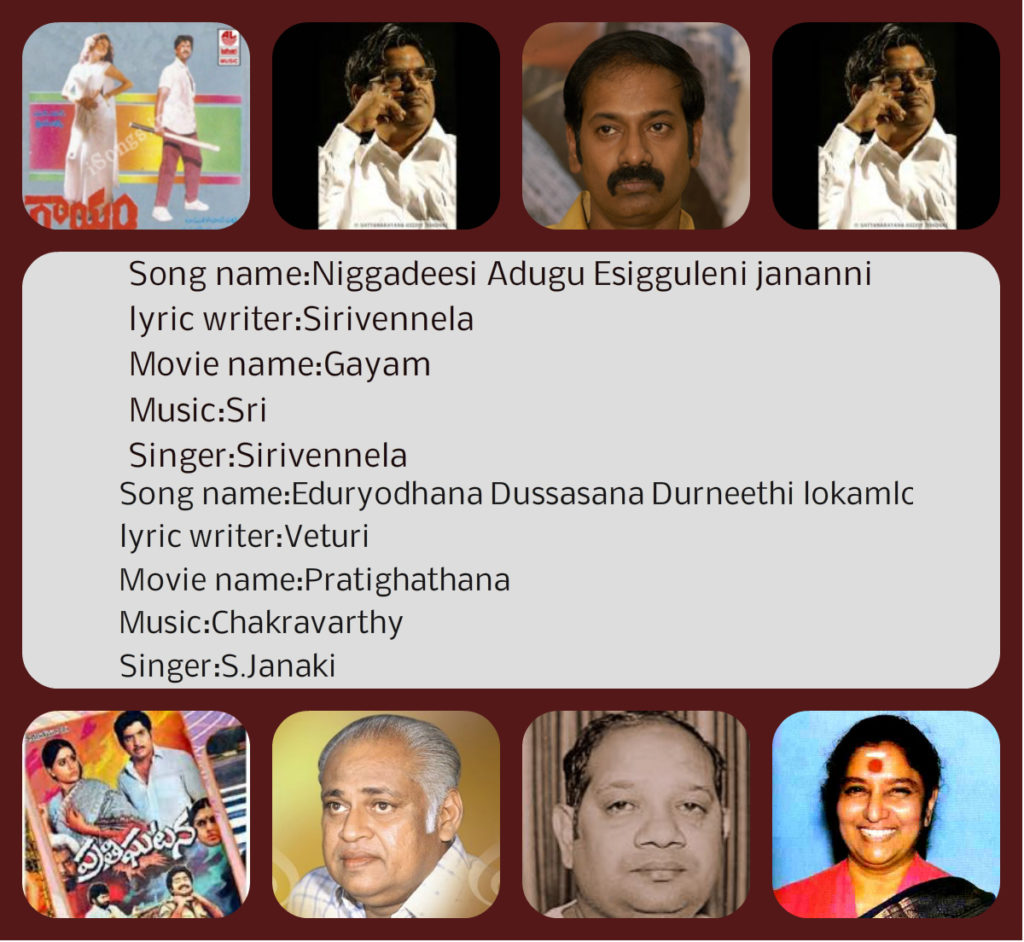 (7)Kalakanidi viluvainadi…
 (8)Undile manchikalam Mundumunduna….
     (9)Telugu veera levara……..
   (10)Mounangane Edagamani Mokka neeku chebutundi…..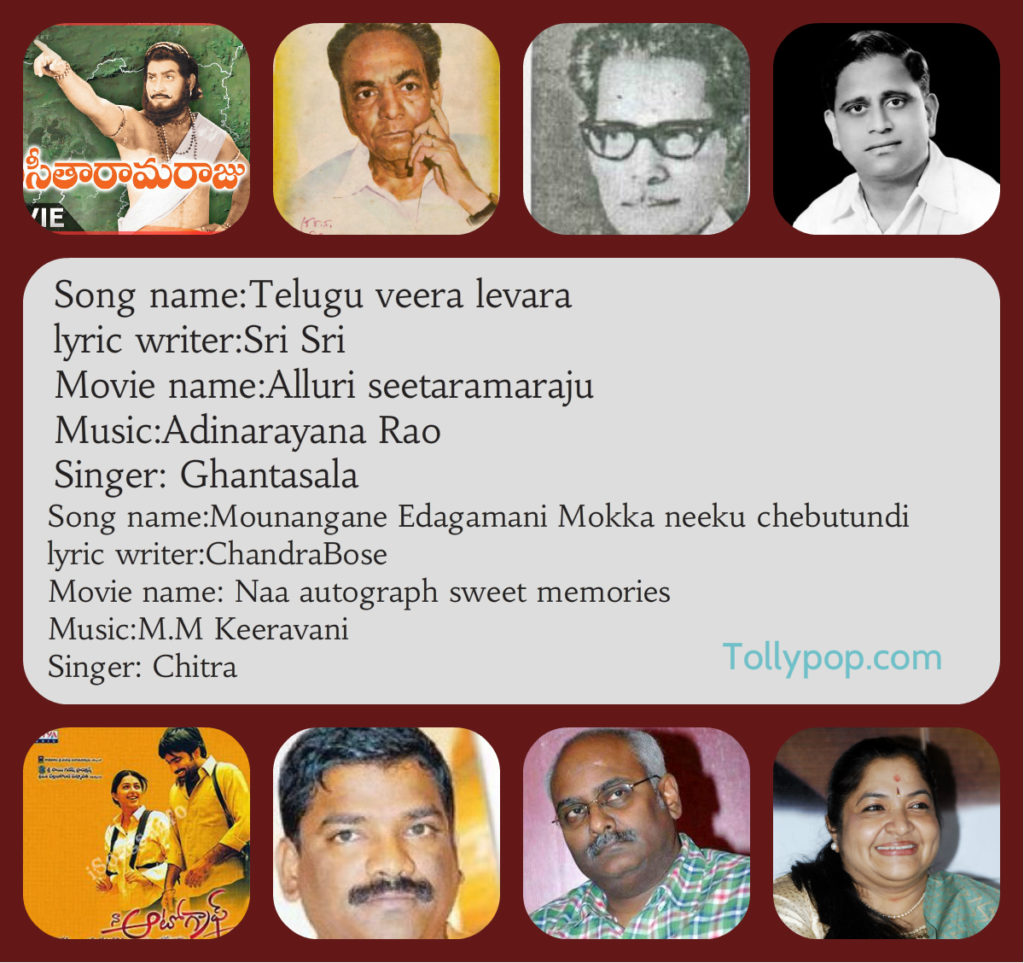 (11)Mariantaga mahachintaga….
  (12)Enduko Asalenduko…….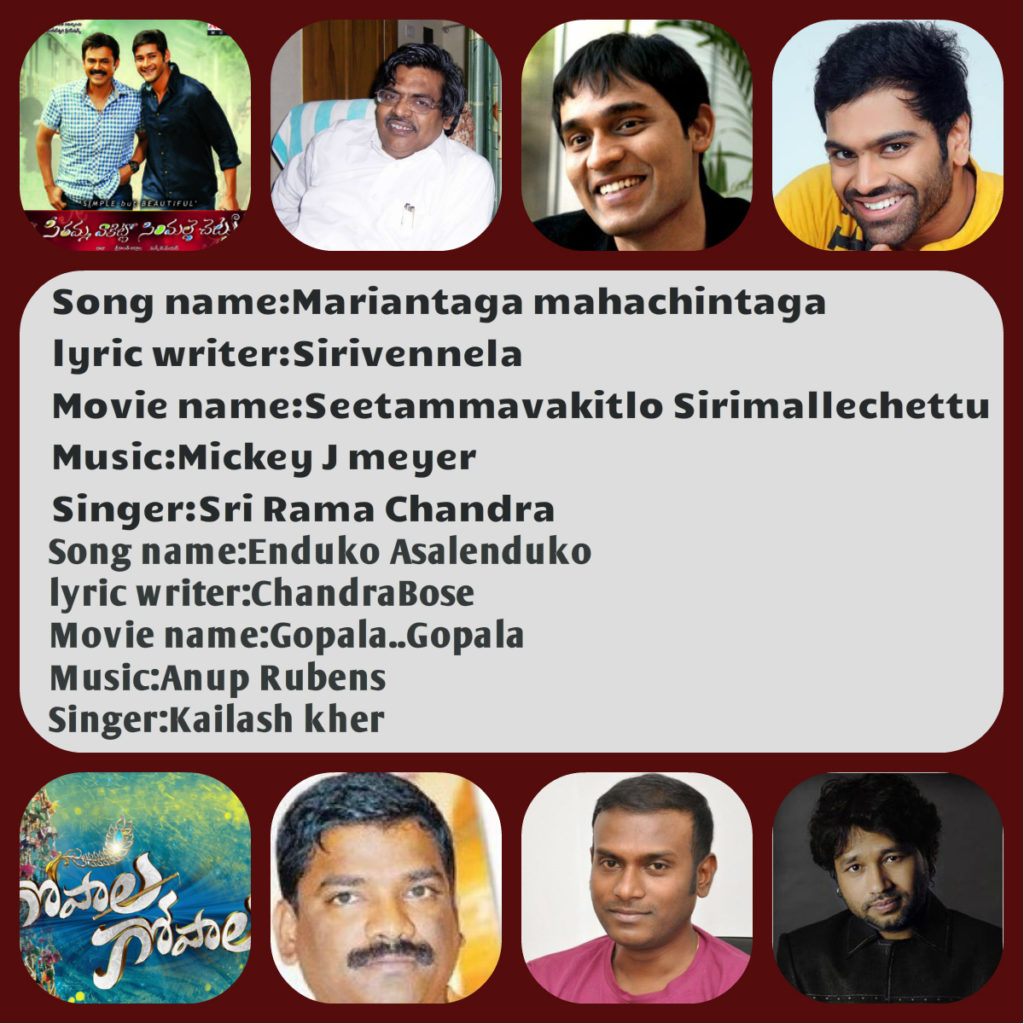 (13)Ekku Toli mettu…….
   (14)Santosham Sagambalam……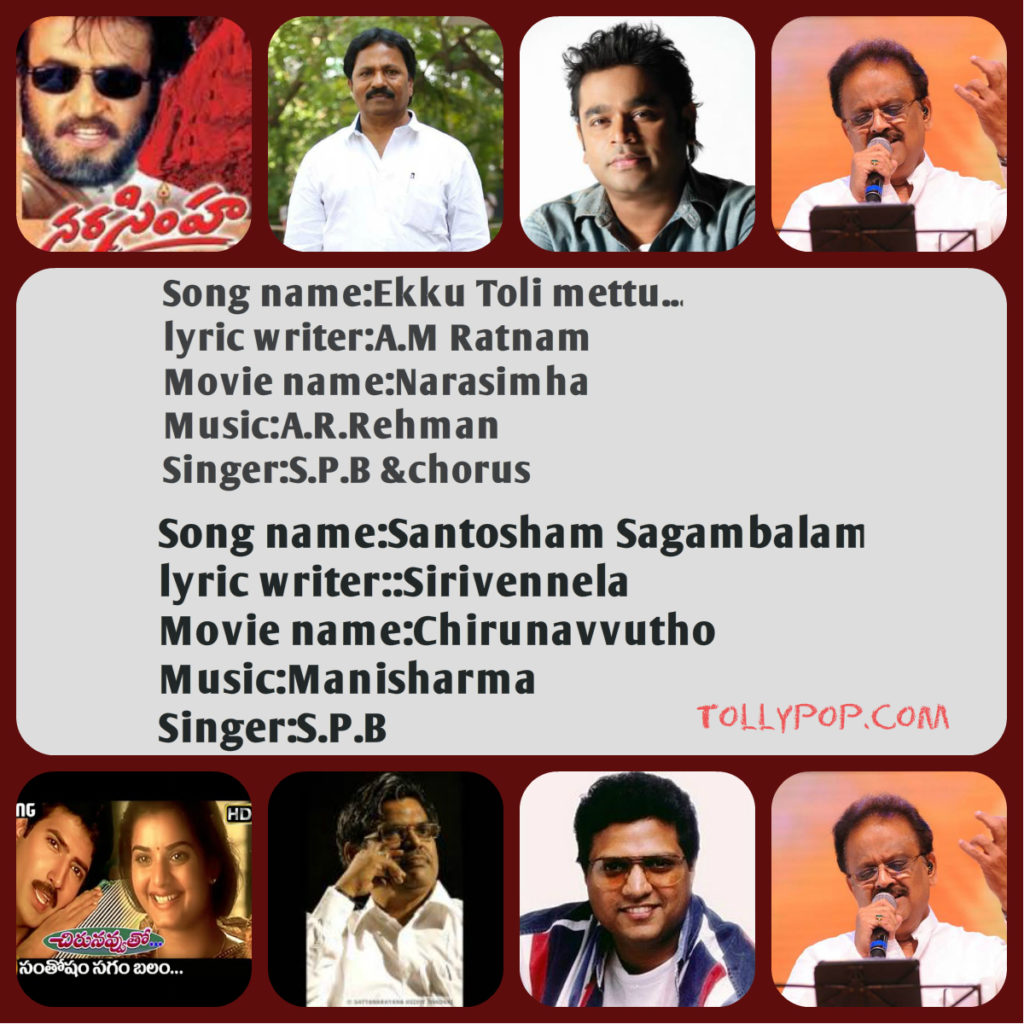 (15)Chaduvu Rani Vadivani Digulu Chendaku…..
 (16)Andamaina Teegaku……
(17) Galiki Kulamedi…..
(18) EE nallani raalalo……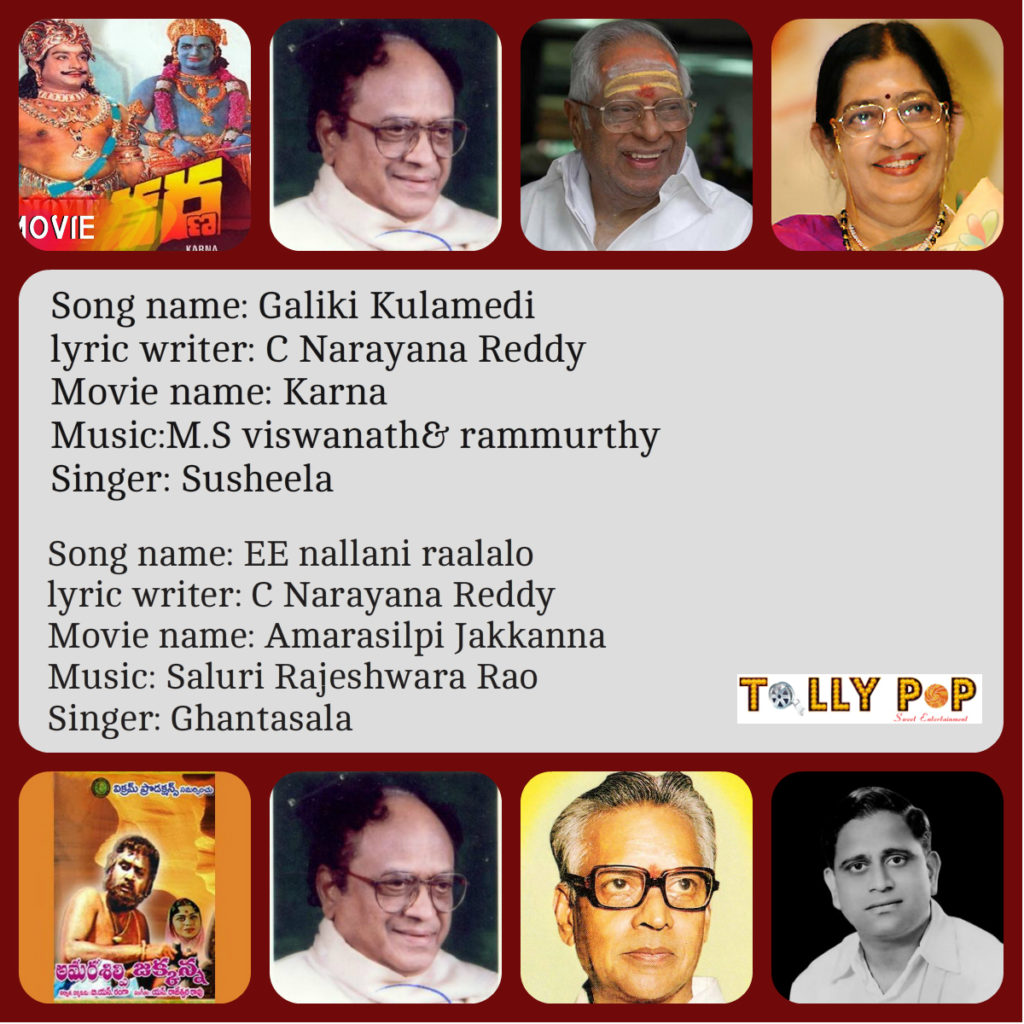 (19) Sahasam Naa Padam…..
(20) Ramund nayna Krishnud nayna…..