Tollywood Film star Manchu Mohan Babu Profile
    Dialogue King Mohan Babu Profile
Mohan Babu is one of the best matinee idols in Indian cinema. Truly ,we all have to remember his services to society and his achievements as an actor. Check out here under his neat and detail profile.
  Name:Mohan Babu ; Occupation : Actor&Producer
Birth Name:Manchu Bhakthavatsalam Naidu
Birth Place:Modhugula Palem, Chittoor Dt,A.P
Parents: Narayana swamy Naidu, Lakshmamma
Siblings: Ranganadh Chowdary,Ramachandra Chowdary,Krishna,Vijaya
Wife: Manchu Nirmala Devi
Children: Manchu Lakshmi, Manchu Vishnu, Manchu Manoj

Schooling:In Yerpedu Village &Tirupathi
College: YMCA college of Physical education,  Chennai.
      Mohan Babu is a well- known Indian actor and producer. But, his birth name was Manchu Bhakthavatsalam Naidu. The director Dasari Narayana Rao changed his name as Mohan Babu in his debut movie 'Swargam Narakam'. He was born and brought up in his home village Modhugula Palem of chittor district. Like all other children, MohanBabu spent his childhood joyously by hanging out with friends and playing pranks. His Father was a school head master and he chose Mohan Babu to have the best academic record.
    Mohan Babu  has two younger brothers and one younger sister. He had his elementary education in Yerpedu village and completed higher education at SPJNM high school in Tirupathi. Mohan Babu was Very much interested in playing stage drama. Out of strong passion, he took part in the school plays from the age of 14. After schooling, he moved to Chennai for further education. And he got  a degree in Physical education from the YMCA college.

  As a Physical Education Instructor:
After completing degree, Mohan Babu worked as a physical education instructor to earn his living. Initially, It used to take care of his expenditure in Chennai. Gradually, his passion for films grew and he decided to pursue his career in film industry. Hence,he started visiting production companies for the opportunities. Finally, he got a chance to work with the director  Lakshmi Deepak  as an assistant in 1969.
Debut as a lead role:
For the first time ,Mohan Babu put on make up  to act in the films Kannavari kalalu and Alluri Seetha Rama Raju. They released in 1974. Later, he met with Dasari NarayanaRao.
To his great luck, he was starred in the movie 'Swargam Narakam' directed by Dasari Narayana Rao. It was Mohan Babu's Telugu Debut movie and he played a villain role in it. The movie released in 1975 and recorded a super hit at the box office.
Best films as a villain:
Mohan Babu has acted as a comedy villian in several movies. And the following are the best among them.
Alluri Seetha Rama Raju, Gorantha Deepam, Devatha,Sardar Paparayudu,Swargam Narakam,Sivaranjani ,Padaharella Vayasu,Driver Ramudu,Satyam Sivam,Premabhishekam,Chattaniki Kallu Levu,Khaidi No.786,Adavi Donga ,Janaki Ramudu,Kondaveeti Donga ,Kodama Simham,Lankeswarudu ,Padaharella Vayasu…etc
Best movies as a Hero:
Till then, the audience saw him as a comedy villain or some other role. With the movie 'Gruhapravesam',he proved himself that he suits for hero roles also. Subsequently, he came up with a few block busters like
Assembly Rowdy , Alludu Garu,Rowdy Gari Pellam,Pedarayudu,Allari Mogudu  Brahma and Major ChandraKanth.
    The Best movie of his Career :Peda Rayudu
In this Movie, He played a dual role. Between them, he received a great accolade for the older character.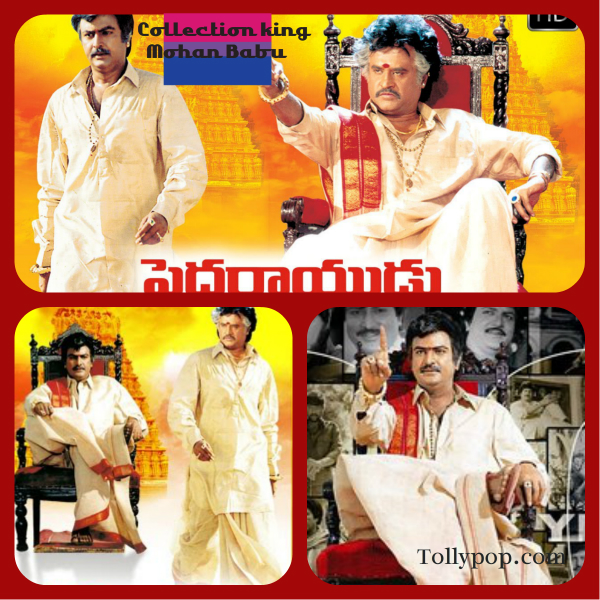 Total movies:
Mohan Babu has appeared in above 500 movies so far which include lead, supporting and variety of roles.
Film Production company:
He established His own production company in 1982 named  Sri Lakshmi prasanna Pictures. Under this banner , he made a debut production 'Pratigna'. The movie turned out to be a super hit and ran 100 days successfully.
 Own production block busters:
Pratigna,Assembly Rowdy,Rowdy gari pellam, Alludugaru Pedarayudu,Major Chandrakanth
Educational  Trust:
Mohan Babu founded Sri Vidya Nikethan Educational Institutions in 2007.
Political entry:
He joined the Telugu Desam Party led by Nandamuri Taraka Rama Rao. He was the Rajya Sabha Member representing A.P from 1995 to 2001.
Awards:
Mohan Babu received Film Fare Best Actor award(Telugu) for the movie 'Pedarayudu'
The Indian Government honored him  with 'Padmasri' Award in 2007.
He grabbed film fare life achievement award in 2016 and many other  awards.
Mohan Babu is fondly referred to by the Telugu people and media as Dialogue king, Nata Vachaspathi,Nata Prapoorna and Collection King.