Indian Singer Shreya Ghoshal Best Telugu songs
Shreya Ghoshal Best Telugu songs
          The Indian playback singer, Shreya Ghoshal is known for her many melodious songs in several languages. Being a Bengali,  she has been perfect with the accent of south Indian languages. Mostly, in Telugu, she sang  many solos and duets with no trace of her ethnicity. Besides, she has a unique voice of her own. And Shreya Ghoshal songs are clean and decent. Apart from that, she chooses to sing only the songs with out any vulgarity. so, Everyone likes her songs irrespective of age and gender. Therefore, most of her songs are considered to be the best songs. Out of all, some of Shreya Ghoshal best Telugu songs are presented for you here under.
  Song Name :  "Nuvvem Maya  Chesavo Gani"
   Name of the Song:"Attarintiki Ninu Ettuku Potanule'
In the movie 'Okkadu', Shreya Goshal sang the above songs.
The popular music director, composed the music.                                                    
And Sirivennela gave the lyrics. And Hariharan was the co-singer.
  Beginning lyric: "Nammina Na Madhi"
The above song is in the movie 'Raghavendra'. The music director was Manisharma and Veturi wrote the lyrics.
 
Song Name: "Chinnadamme Cheekulu"
Shreya sang this number for the movie' Simhadri'.
And Keeravani composed the music.
Vennela Kanti was the lyric writer.
And Mano was her co-singer.
Name of the Song : "Siggesthondi"
The movie 'Seethaiah' has this song.
MM.Keeravani gave the Music and ChandraBose wrote the lyrics.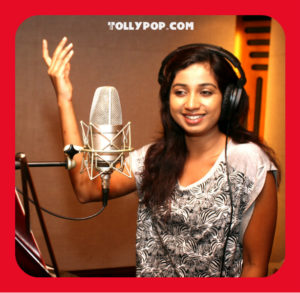 Song Name: "Enni Janmalaina Chalave"
In the movie, 'Pellamtho Panenti' Shreya sang this song.
Siri vennela penned down the lyrics and Krishna Reddy made the tune.

Beginning Lyric: "Vanochhenante"
Shreya Goshal sang this song for the movie 'Tagore' along with Udith Narayan.
The lyricist, Bhuvana Chandra wrote the lyrics and Mani Sharma gave the tune.
Song : "Nuvve Na Shwasa"                                                                               
 Lyricist: Chandrabose
  Music:M.M.Keera Vani
She sang this song for the movie 'Okariki Okaru'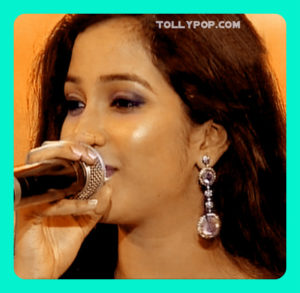 Song Name: "Vellipothe Elaa"   Lyrics:Sirivennela    Music:Keeravani    Movie:'Okariki Okkaru'
 Check oue a few more Shreya Ghoshal Best Telugu songs given under:
Song's beginning :"Entha Sukhmido"                                                                     
Movie :Missamma
 Music:Vandemataram Srinivas
 Co-singer:Shankar Mahadevan
Song:  "Kopama Napina"                                                                                                                                 
  Movie:   Varsham                                                                                                                                        
  Music: Devi Sri Prasad
   Co-Singer:  Karthik  Lyricist:Sirivennela
Lyric beginning:"Janma Janmala"
 Movie:Malliswari                                                                       
Music: Koti
Co-Singer:Balu 
Lyricist:Bhuvana Chandra
song name:"Vachhe Vachhe"                                                                                                      
Movie:Anand
Music: K. M. Radha Krishnan
 Lyricist:Veturi
Song: "Telisi Telisi"
Movie: Anand
Music:K. M. Radha Krishnan
Lyrics:Veturi
Song's Name:  "Nuvvena"
Movie:Anand
Music:K. M. Radha Krishnan                                                                                                                                                                                                                                                                    
 Lyricist:Veturi
Song: "Thalachi Thalachi"
Movie:7G Brundavan Colony
 Music: Yuvan Shankar Raja

 Lyrics:A.M Ratnam, Sivaganesh
Song: "Jajiri Jajiri"  
Movie: Subash Chandra Bose
Music:Mani sarma                                                                                                  
Co-Singer:Balu  
Song: "Neeli Neeli Jabili"
Movie:  Cheppave Chirugali
 Music:  S. A. Rajkumar
 Co-Singer: Udit Narayan Lyricist: Chandrabose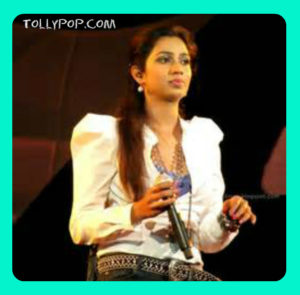 song:"Needalle Tharumuthuvundi"
 Movie:Anukokunda Oka Roju
Music:  M. M. Keeravani

Lyrics: Gangaraju Gunnam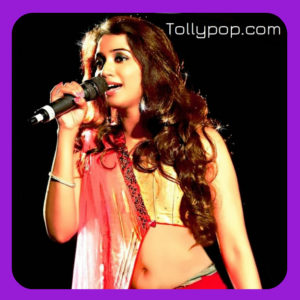 Song:"Righto Lefto"
Movie:Anukokunda OkaRoju
Music:M. M. Keeravani
Lyrics: Gangaraju Gunnam
   song:  "Pillagali"

  Lyrics: Seetharama Sastry
 Movie:Athadu 
Music: Mani Sharma
song: "Kokilamma"                                               
 Movie:  Andhrudu
Music: Kalyani Malik
Lyrics:Chandrabose
song:   "Maha Muddu"                                 
 Movie:Jai Chiranjeeva
Music:  Mani Sharma
Lyrics: Sirivennela
Co-singer:Karthik
song:  "Edo Asha"                                                                                                     
 Movie:   Gowtam SSC
Music: Anup Rubens
song: "Kuy Lalo"                                                                                       
 Movie:Anumanaspadam                                                                            
Music:Illaya Raja
Lyrics:Veturi
song:"Prathi Dinam"
 Movie:Anumanaspadam
Music:Illaya Raja
Lyrics:Vamsi
Co-singer:P. Unni Krishnan
song:"Vintunnavaa"                                                                                        
 Movie:  Ye Maaya Chesave                                   
Music:A.R.Rehman
Lyrics:Ananth SriRam
Co-singer:Karthik
song:    "Nee Navve"                                          
 Movie: Soggade Chinni Nayana
Music:  Anup Rubens
Lyrics:Balaji
Co-singer:  Dhanunjay
                                                                                                      
song:"Ramayanamu"
 Movie:Sri Rama Rajyam
Music:Ilaiyaraaja
Lyrics: Jonnavithhula
Co-singer:K.S.Chitra
                                                                                                                                  
song:"Sita Shrimantam"
 Movie:Sri Rama Rajyam
Music:Ilaiyaraaja
Lyrics: Jonnavithhula
song:"Srirama Lera" 
 Movie:Sri Rama Rajyam
Music:Ilaiyaraaja
Lyrics: Jonnavithhula
Co-singer:Sriram Partha Sarathy                                                                                                                                 
song:"Sitarama Charitam"

 Movie:Sri Rama Rajyam
Music:Ilaiyaraaja
Lyrics: Jonnavithhula
Co-singer:Shwetha Mohan
Song:  "Enni Ashalo"
Movie:Jai
 Music:  Anup Rubens
Lyricist:Kula shekhar
song:"Jagadananda Karaka"
 Movie:Sri Rama Rajyam
Music:Ilaiyaraaja
Lyrics: Jonnavithhula
Co-singer:Balu
song:"Devulle Mechchindi"
 Movie:Sri Rama Rajyam
Music:Ilaiyaraaja
Lyrics: Jonnavithhula
Co-singer:K.S Chitra
---