Indian Actor Megastar Chiranjeevi
 Chiranjeevi profile | Biography
Chiranjeevi is one of the most famous movie stars in Indian cinema. Indeed,every movie lover  is familiar with the name 'Chiranjeevi'. Truly, his acting and dancing are simply superb. In fact, he did not train much in dancing skills before starting his acting career. yet, he practised a great deal to entertain the audience on the screen. Initially, he underwent all sorts of  bitter experiences to get the safe and strong position in film industry. Moreover, he was not from the family of cine background. Also, he neither had much support from his family nor cine industry. He himself laid foundation for his success. Really, he can be proud of the fact that he is a self-made-man.
   After 25 years of his  successful film career,Chiranjeevi entered the politics. Even though his party was not so successful,he maintained a harmonious relation with all party people. In addition to that, he gave a great inspiration to his son and his nephews to become stars in Tollywood. Hence, his fans and movie lovers fondly refer to him as'Megastar'. Now that, the star is the most adorable actor, let us look at his biography whether we find something interesting.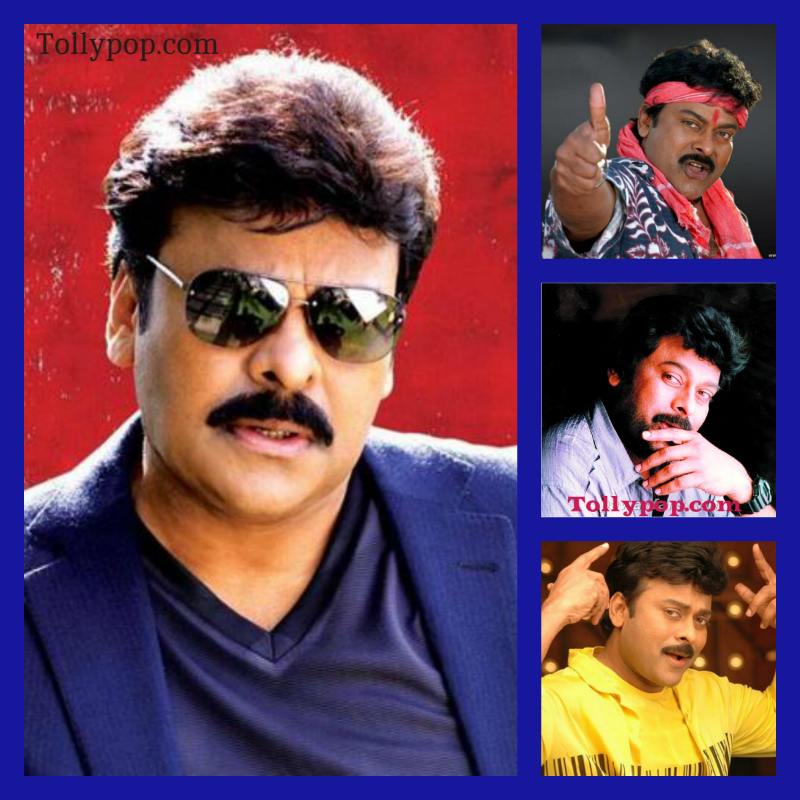 Real Name | First Name | 
Zodiac sign
As a film star, the name 'Chiranjeevi' has become most familiar. But, his birth name was Konidela Siva Sankara Vara Prasad.His mother, Anjana Devi was a devotee of  lord Hanuman. Regularly,She used to pray to Lord Anjaneya with great devotion. Inherently, her son, Shankara vara Prasad developed  faith in the deity and was advised by his mother to change his name as 'Chiranjeevi'. The name suggests 'Live for ever'. Similarly, he ever looks fresh and energetic. Like most cine people, his family believes in astrology and Neumorology. Chiranjeevi's Zodiac sign is Leo.
Birth | Zodiac sign | School | College
Our Megastar was born on 22nd Aug 1955 in a small village, Mogalthur of West Godavari district in A.P. And his brought-up went on in different places in A.P such as Nidadavolu,Gurajala,Bapatla,Ponnuru,Mangalagiri and Mogalthur. His father, Konidela Venkata Rao was working as a constable in state excise department. So,wherever he moved to on transfer, Chiranjeevi had his schooling.
Later, he graduated in commerce from Sri Y.N.college at Narsapur. Gradually, his passion towards acting in films  began to emerge. As a result, he went to Madras to study law. Along with that, he joined the film institute to train in acting. After completion of the course,he started trying for the opportunities. As usual in the industry, he had to struggle for the chances.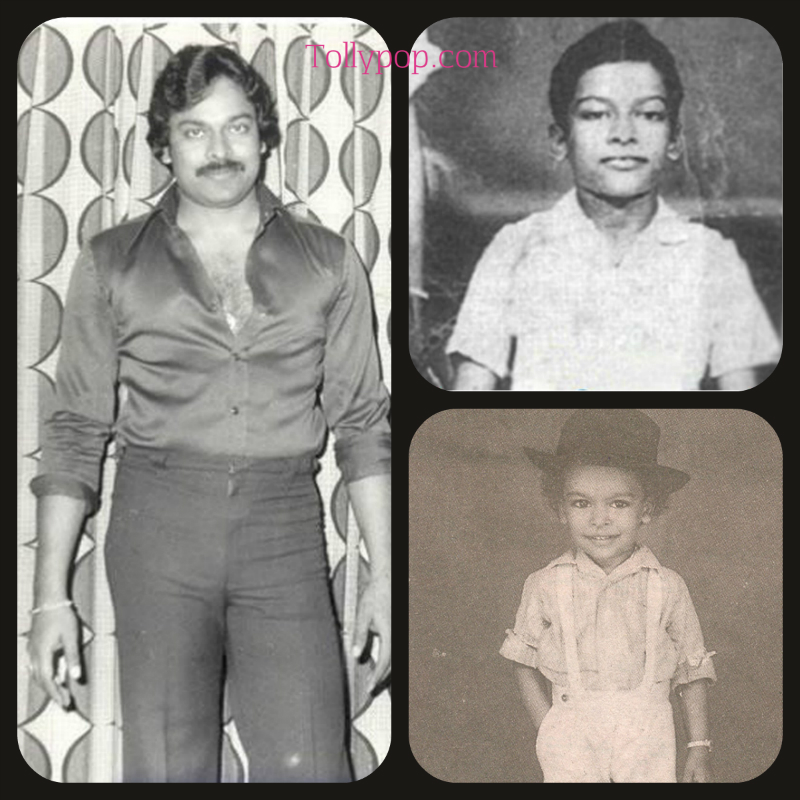 Debut movie | First Movie | First Released
Finally, he acted in the movies 'Punadirallu' and "Pranam Khareedu' in 1978. As per the film records, Chiru's debut movie was 'Punadi Rallu'. However, 'Pranam Khareedu' released first. And  the movie recorded a hit at the box office.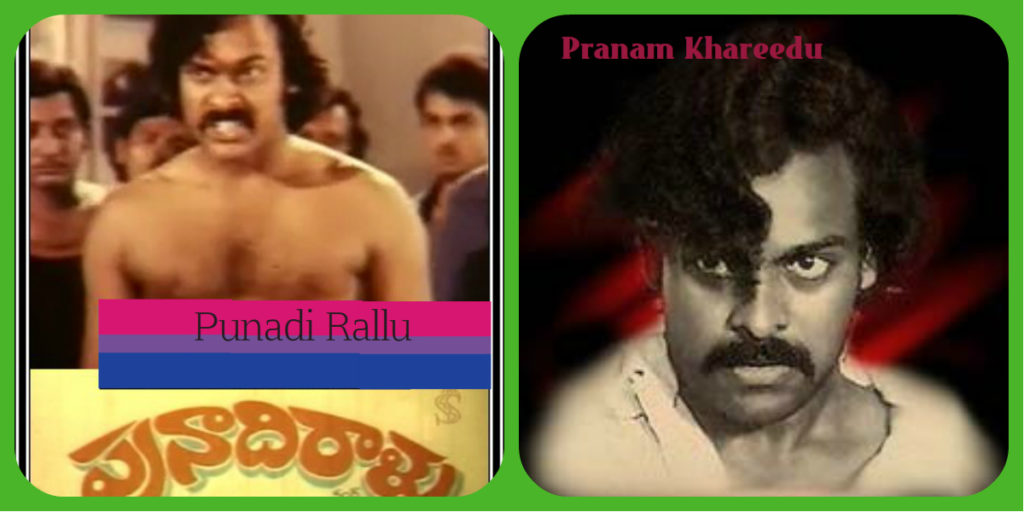 Negative Roles | Villain Roles
In the initial days of his career, Chiru played a few negative roles such as Mosagadu, Rani Kasula Rangamma, 47 Natkal (Tamil),47 Rojulu, Nyayam Kavali, and Ranuva Veeran(Tamil). Later, he chose to play only hero roles  and continued to entertain the audience with his extraordinary acting and dance movements.
  Chiranjeevi breakthrough film
Chiru achieved a breakthrough with the movie 'Khaidi' released in 1984. With this movie, he rose to stardom with in short span of time. He received a great praise from both the critics and film fraternity.  And a large number of movie lovers became his hard core fans. From then on, he didn't have to look back and most his movies became hits.
 Megastar's Super hits | Block Buster movies
Chiranjeevi gave lot of hits for Tollywood. yet, some of the best ones are presented here below.
Pranam Khareedu, Intlo Ramayya Veedilo Krishnayya,Khaidi, Mantri Gari Viyyankudu, Sangharshana, Goonda, Challenge, Hero, Donga, Jwala, Adavi Donga, Pasivadipranam,Kondaveeti Raja, Rakshasudu, Gang Leader, Rowdy Alludu, Yamudiki Mogudu, Donga Mogudu , Indra,Tagore.
The movie 'Gharana Mogudu'(released in 1992) directed by K.Raghavendra Rao grossed over 10 crores at the box office.
                       

   Best movies of his career
Rudra Veena,Aradhana,Aapad Bhandhavudu,Punnami Nagu,Maga maha Raju,Vijetha,Gang Leader,Gharana Mogudu,Tagore,Choodalani undi,Challenge, Abhilasha…etc
     Chiranjeevi Upcoming Movie
Chiranjeevi has acted in 149 movies in Telugu,Tamil, Kannada and Hindi films. His upcoming movie is 'Khaidi No 150' slated to release in Jan 2017. V.V.V.Nayak is the director and the producer is Ram Charan.
Entry into politics | Political party  
         Chiranjeevi floated the political party 'Praja Rajyam' in 2008 in A.P. subsequently, he contested in 2009 general elections from Tirupathi constituency and became a member of the state assembly. According to the party, social justice was a main agenda. Although The party failed to win the expected seats,Chiru didn't lose his spirit and maintained the poise. Also, he managed to keep up good relation with everyone in and out of the party. Later, he had  his party merged into Congress.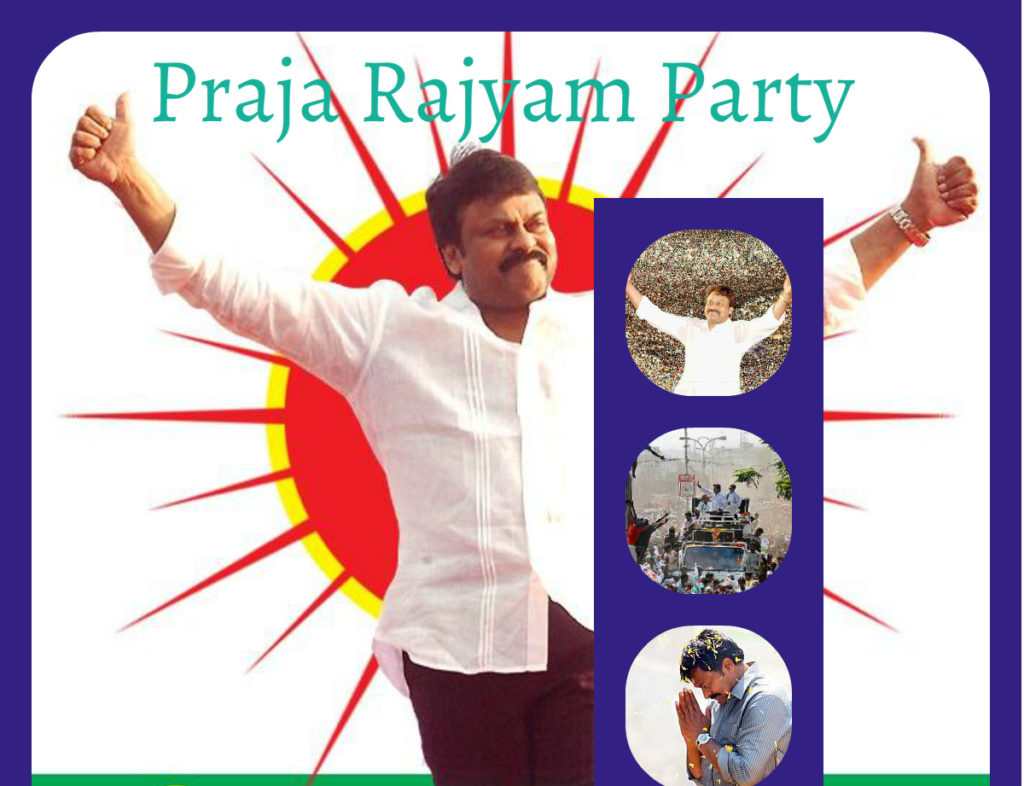 Chiranjeevi's  Awards | Achievements
     Chiranjeevi received the prestigious 'Padma Bhushan' from the Government of India in 2006.
    To his honour, Chiranjeevi has won the film Fare Awards  for the best actor in the movies such as Shubhalekha (1982), Vijetha(1985), Aapadbandhavudu (1992),Muta Mesthri (1993), Sneham Kosam (1999),Indra (2002)Shankar Dada MBBS (2004)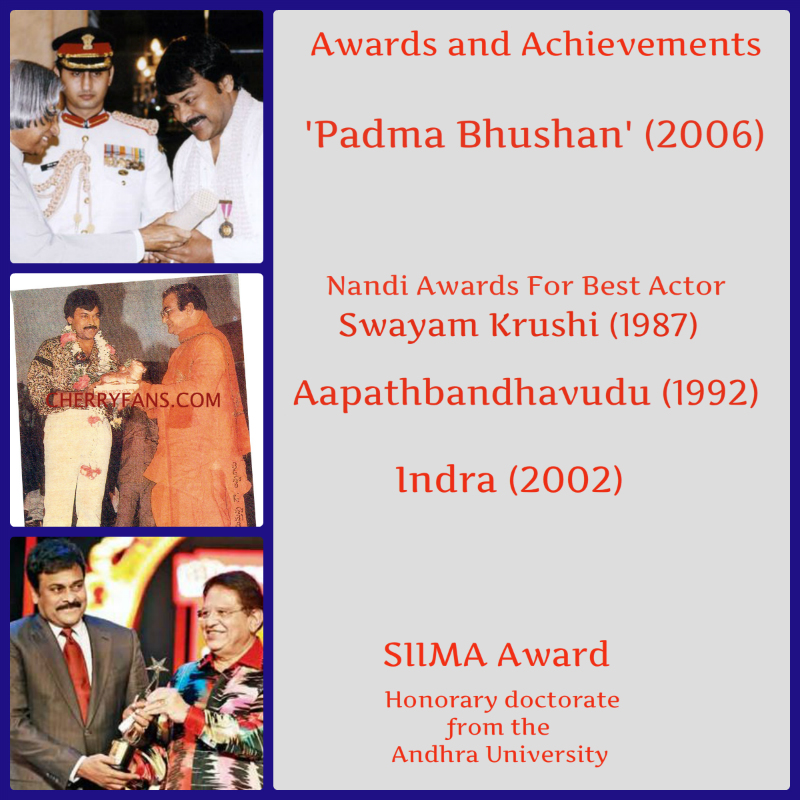 Charitable Trust | Social service | Blood Bank | Eye Bank
           To do the Social Service, he founded the Chiranjeevi Charitable Trust in 1998.The trust includes Chiranjeevi Blood and Eye Banks. To his pride, It stands as one of the largest banks of blood and eye donations.
               

  Megastar Family | Daughters | Son
     Coming to his family, it consists of five members. His wife,Surekha is a housewife. And his daughters are Susmitha and Srija. Both are married and well settled with their families. His son,Ram Charan has already become a popular actor in Tollywood.
His two brothers are Nagendra Babu and Pavan Kalyan. As we all know,both are working for film industry. His brother-in-law, Allu Aravind is a film producer. And his nephew, Allu Arjun is a well-known Telugu film star.
 Lastly, Tolly pop whole-heartedly wishes that he would have his glory back with the upcoming movie 'Khaidi No.150'
                                                                            All the best Megastar