Indian Actress Sridevi Biography | Images
 

Indian Actress Sridevi Biography
Admittedly, actress Sridevi has a special page in Indian cine history.  And, She had been successful  through out her career in  various languages. All in all, Actress Sridevi  biography is worth reading. Then, check it out.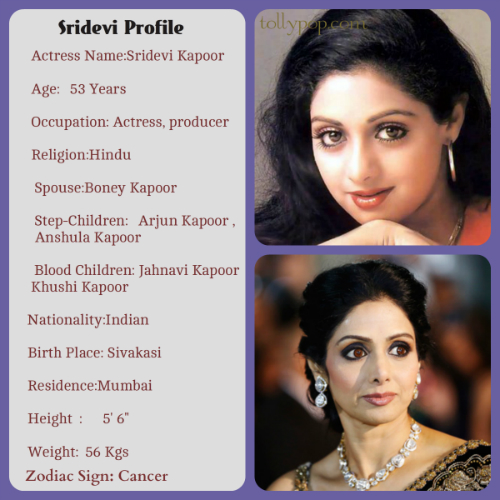 Baby Actress Sridevi
Real name: Shree AmmaYangerAyyappan
 Nickname:    Puppy
Date Of Birth:  13, August 1963
Education: Since actress Sridevi started her film as a child,she hardly found time to attend school. So she had to drop out from middle of her schooling.In fact, it is not known how far she has studied.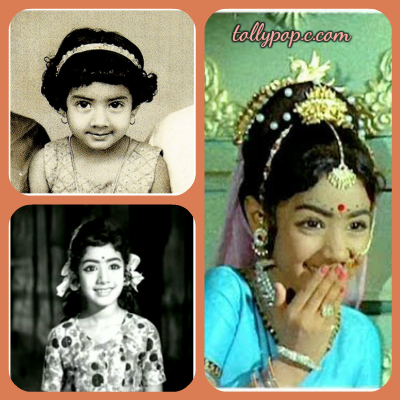 Actress Sridevi Child Debut | Best Films as a Child Artist
The prominent Indian actress Sridevi began her career as a child actor. At the age of four, she acted as a young Lord Muruga in a Tamil movie 'Thunaivan'. From then on, she appeared in many Tamil and Telugu movies. As a child artiste, Sridevi acted in the Malayalam movie 'Poompatta' . And it brought her the Kerala State Film Award for Best Child Artist.
Some of her best films as a child actor are Kandan Karunai ; Nam Naadu ; Prarthanai  Babu ; Vasantha Maaligai, and 'Badi Panthulu', Yasoda Krishna in Telugu.
Hindi Debut Movie As a Child Star
In 1975, Actress Sridevi made her  debut in Bollywood with the movie 'Julie'. Her role was the younger sister to the lead Character played by Lakshmi.
  Sridevi Family
 Father:   AyyapanYanger (Lawyer)
 Mother:    Rajeswari
 Siblings: Actress Sridevi has one sister and two step brothers.
 Telugu Debut Movie On Actress Sridevi Biogrphy
Actress Sridevi  made her debut as a lead role in the film 'Anuragalu' but  in  'Padaharella Vayasu' she got recognition. Also, it became successful at the box office.
  Cine Career
In 1976, Sridevi's first leading role in Tamil film was 'Moondru Mudichu' directed by K. Balachander. following that, She shared her screen space with Kamal Haasan and Rajnikanth in a number of films.
 In 1977,  Sridevi's releases were 'Gayathri' , 'Kavikkuyil' and '16 Vayathinile'. she played the role of a young girl. Also, She appeared in the Telugu remake 'Padaharella Vayasu' in 1978. subsequently, she starred in the films Sigappu Rojakkal, Priya, Karthika Deepam, Johnny, Varumayin Niram Sivappu and Aakali Rajyam,Meendum Kokila, Moondram Pirai.
For the movie 'Meendum Kokila', Sridevi received Film Fare Award for best actress. And Tamil Nadu state Film Award for best actress in the film 'Moondram Pirai'.
Actress Sridevi Best Telugu Movies
Sridevi With N.T.R
Sridevi's Telugu worth-Watching films are Konda Veeti Simham, Vetagadu, Sardar Paparayudu and Bobbili Puli.
Sridevi With A.N.R
she was paired With A.N.R in movies such as Mudulla Koduku, Premabhishekham, Bangaru Kanuka and Premakanuka.
Sridevi With Krishna
The actress shared her screen space with Krishna in the movies such as Kanchu Kagada, Kalavari Samsaram, Krishnavatharam, Burripalem Bolludu, Khaidi Rudrayya,
Sridevi With Megastar Chirangeevi
Sridevi was paired with Chiranjeevi in the films such as jagadeka Veerudu Atiloka Sundari, S. P. Parasuram
Sridevi With Nagarjuna
She starred in the movies Akhari Poratam and Govinda Govinda in which Akkineni Nagarjuna was in a lead role.Really, it is a wonderful experience in her career to act both with father and son(A.N.R and Nagarjuna). Really, it is an interesting thing on Sridevi Profile.
Sridevi With Victory Venkatesh
She showcased her excellent acting in the role for the 1992 movie 'Kshana Kshanam '. Ram Gopal Varma was the director and Venkatesh was another lead role.
The film brought her the Filmfare Award for Best Actress –Telugu
Nandi Award (Andhra Pradesh) for Best Actress.
Hindi Debut In A Lead Role | Actress Sridevi  Best Hindi  Movies
Actress Sridevi entered in to Bollywood and debuted in the film 'Solva Sawan' in 1979.After Four years, she starred in 'Himmatwala' opposite Jeetendra. The film released in 1983 and became one of the biggest blockbusters of the year. It strengthened her position in Bollywood.
Her dance number 'Nainon Mein Sapna' became a huge hit and it drove the movie lovers crazy about her. Following that,as the film 'Tohfa' hit the theatres it also created records.
The film made Sridevi one of the leading actresses of Bollywood. Subsequently, the actress appeared in several films such as 'Mawaali', 'Maqsad' and Justice Chaudhry opposite Jeetendra.
And the stars got an image of  best onscreen pair. Later, Sridevi got a critical praise through the film 'Sadma' released in 1983. It was a remake of her Tamil film 'Moondram Pirai'.
The snake fantasy Nagina came In 1986, which portrayed Sridevi as a shape-shifting woman. The film became her another block buster of the year.
More Block Busters on  Actress Sridevi  Profile
Sridevi's dance number 'Main Teri Dushman' also remains one of the best snake dances in Bollywood. In addition to the film 'Nagina', there were another two box-office hits like 'Karma' and 'Janbaaz'. Following them,  actress Sridevi starred in Mr. India in which she played a crime journalist.Needless to say that it also recorded blockbuster at the box office.The year 1987 gave sridevian another success with 'Mr.India'Directed by Shekhar Kapur.The film also enjoyed super hit at the box office.Her movements in the dance numbers'Hawa Hawai'and 'Kaate nahin kat te' are very erotic and ever cherishable.
  Actress Sridevi Duel Roles
The movie lovers saw  actress Sridevi in Double role in the movie'Chaalbaaz'in 1989. And,Sunny Deol and Rajnikant were other lead roles. In the same year came 'romantic genre film 'Chandni' and it turned out to be the biggest block buster. Truly, the film cemented her position in Bollywood.The music of 'Chandni' won the hearts of the music lovers. And,it was Sridevi's famous dance number 'Mere Hathon Mein Nau Nau Choodiyan'. And another song'Chandni O Meri Chandni' also became popular.
Following that, her film 'Lamhe' saw the failure in 1991, but received critical acclaim and awards.She played the double role as mother and daughter in this movie.
In 1992, Sridevi was cast in the film 'Khuda Gawah' opposite Amitabh Bachchan. Again,it was her double role.
 Most expensive Film | big Budget Films
Actress Sridevi Profile includes big budget film  'Roop Ki Rani Choron Ka Raja' released in 1993. But it could n't reach the expectations and became a disaster.
Actress Sridevi starred in the movies'Laadla' opposite Anil Kapoor in 1994 and'Gumrah' opposite Sanjay Dutt.
The last big budget film Actress Sridevi acted in before she had a break from the industry was 'Judaai' released in 1997.In the film, Anil Kapoor and Urmila were the co-lead characters.
Actress Sridevi Come back films
In the beginning of 2011, She appeared on the silver screen with film 'English Vinglish'
Actress Sridevi played a significant role in the Tamil movie Puli in 2015.
Highest Award
 Actress Sridevi received Padma Shri highest  award from the Government of India in 2013.
Filmfare Awards
Special Award for 'Nagina' and 'Mr. India' in 2013
Best Actress Award For:
'Lamhe' in 1992 (Hindi)
'ChaalBaaz' in 1990.(Hindi)
(Telugu) for 'Kshana Kshanam' in 1990
(Tamil) for 'Meendum Kokila' in 1982
Also,check, Kajal Agarwal Cute pics
  Actress Sridevi Images