Tollywood Best Mother Sentiment Movies
Best
Mother Sentiment Movies in Telugu
Mother Sentiment Movies are ever green ones which are liked by all. They mostly make the audience feel emotional and free from all sorts of mental blocks. Here are some of the best Mother Sentiment Movies for you to check out.
 'Matru Devo Bhava'
This movie starred  Madhavi ,Nassar,Y.Vijaya,Charuhasan,Subbaraya Sarma Sarathi, Maharshi Raghava, Tanikella Bharani. M.M. Keeravani was the music composer. The director was K.Ajay Kumar. The film released in 1993. No doubt, very few  mother sentiment movies are as emotional as this film.
A family of six members  live in a village. The woman is a music teacher and her husband is a drunkard. He hardly takes care of his family because he is most of the time in inebriated mood.one of the children is  physically challenged. Her husband dies during a fight with an enemy in the town.  To her ill-fate, she was diognised with cancer she decides to give away her four kids for adoption. But initially, no one was willing to adopt the physically challenged child. Finally, some one will come forward to adopt her. After the children get settled in comfortable homes, the woman breaths her last.

  Mother Sentiment Movies In Telugu-

' Bichagadu'
Speaking about mother sentiment movies, obviously it stands one of the best ones. The movie was a 2016 release. Sasi directed the film. Vijay Antony,Satna Titus played lead roles.
The lead character is a rich businessman who returns to India from abroad. On one bad day,  Accidentally, his mother gets injured and she has to undergo intensive treatment. Even though many doctors treat her , she couldn't recover. In this connection, one of the renowned saints tells him a solution  tha this mother will recover if he becomes a beggar for 48 hours. so he had to turn into a beggar for the sake of his mother.
'Amma Rajinama'
A mother , as a house wife attends all the domestic work and meets all the needs  of her family. Even then, her service to the family is left as a thankless job. Then,  she decides to retire from all her family chores and thus makes her family realize her value.
Mother Sentiment Movies in Telugu
' Amma Nanna O Tamila Ammayi'
The film released on 19 April 2003. Puri Jagannadh was the captain of the crew. Ravi Teja, Asin, Prakash Raj and Jaya Sudha played the main roles.
A woman, having separated from her husband, lives with her only son. He is a  boxer. When the woman is on the death bed, reveals about his father that he got separated with her due to some professional cause.  Later, he goes to his father telling him that he is an orphan. His father is not only a boxing champion but also a famous boxing teacher convinces  his wife and daughter to allow him to stay with them. Subsequently, the father comes to know that he is his son. The rest of the story tells about how his son sorts out the family issue and endear himself to his folks and become a member of the family.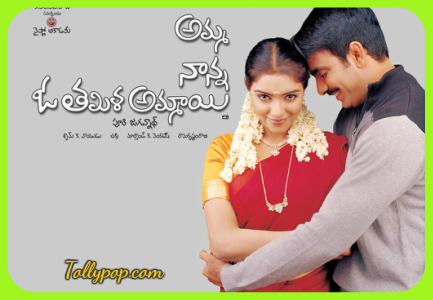 Mother Sentiment Movies in Telugu
' Chatrapathi'
The film released on 30th,Sept, 2005. Raja Mouli directed the film and the  lead actors were Prabhas, Shreya and Bhanu Priya.
The hero who loves his step-mother very much gets separated from her in his child hood . As he grows up he searches for his mother a lot but in vain. After becoming an adult, he starts staying in coastal area. There, he fights for people and becomes a leader.  His step brother, being jealous, tells his mother that her elder son had died. Later, He gets to know about the whereabouts of his mother and his brother's envious feeling towards him. He feels very much bad about his step brother's attitude. . Hero's brother joins hands with the villain of coastal area tries to deceive the hero. However, he could manage to avert the harm and  he saves  his brother and mother from villain.
Mother Sentiment Movies in Telugu –
' Yamaleela

' 
The film is 1994 release. S.V. Krishna Reddy directed the movie and composed the music. It starred Ali, Indraja, Satya Narayana, Tanikella Bharani, Brahmanandam and Kota Srinivasa Rao. , The audience really considered the film was one of the best mother sentiment movies and gave a huge hit.
This story completely revolves around the mother sentiment. The Hero's parents are from a royal family and live in a a great palace. But, under some circumstances the hero's mother loses not only her property but also her husband. As a result, she leaves the palace along with 2 year old kid(Ali).Since then, she has been living an ordinary life. After a few years the hero comes to know about his mother's royal life and decides to buy the same palace in which his parents lived.He wants to make his mother very happy.
So, he gets himself ready to do any sort of mischief to get money. In this process, he gets a magical and divine book through which he gets some sort of powers. In this context, he gets in contact with Yama Dharma Raja and Chitra Gupta who come down to earth from 'Naraka'.The rest of the story tells about how the hero fulfills his ambition of giving happiness to his mother.