Asin Thottumkal  has been acting in the films since her 14th year.  Having become popular in the south Indian films, she  debuted in Bollywood film  'Ghajini' in 2008, has featured in films like London Dreams and Ready. The actress last appeared in the movie 'All Is Well'in 2015, co-starring Abhishek Bachchan, Rishi Kapoor and Supriya Pathak. During her Bollywood career, she happened to meet Rahul Sharma , an Indian businessman and their frequent meetings connected them each other. Hence their lovely marriage. Here are beautiful Asin Wedding Photos which create a good feeling in the hearts of movie buffs. Tollypop.com submits here under Asin Wedding Photos which feature how strong their love is.
Asin – Rahul Sharma Love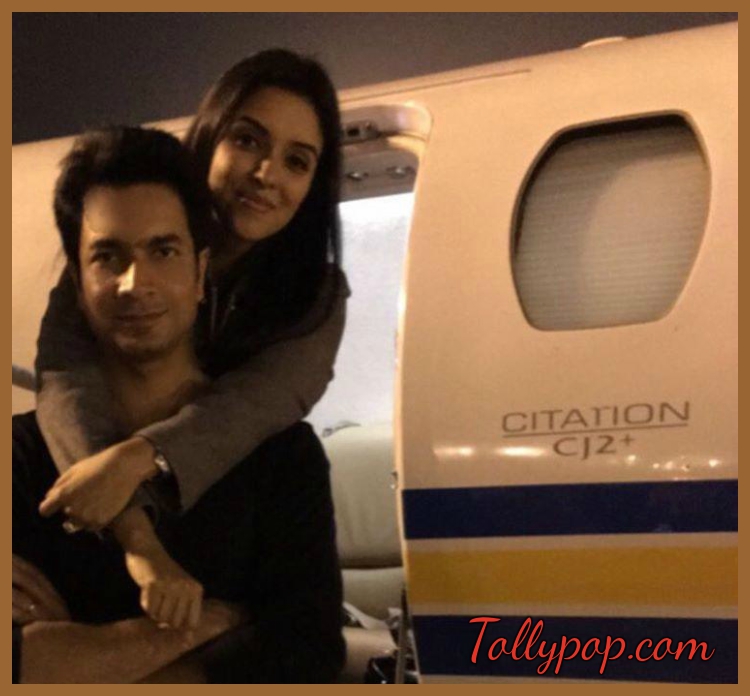 Bollywood actress Asin Thottumkal and Micromax founder Rahul Sharma have been in relation for four years. The harmony and love further established between them during their relation.Finally, their  marriage took place by the end of 2016.
Asin met Rahul first at the Mumbai airport. And that he said a hi to Asin and she reciprocated to him. After some time they both happened to sit next to each other. And it didn't take much time for him to say 'I love you'.
During the shoot of the film 'Khiladi 786' her co-star Akshay Kumar introduced Rahul Sharma to Asin and expressed his wish that they would be good for each other. Akshay has an ability of sensing people and as he could sense the similarities between Rahul and Asin. Somehow, Akshay being their family friend strengthened the bond between Asin and Rahul.Asin got very much impressed by Rahul's selfless nature, showing concern to Asin. Throughout the relation Asin found in him the quality of being level headed, mature,grounded, and simple.These factors made Asin head over heels in love with him. Consequently, it led to the wedding bells in their life.
Asin Wedding | Marriage Dress
The film star Asin got hitched to Micromax co-founder Rahul Sharma on January 19th 2016 near Delhi. She was  of 30 years old where as Rahul was 39 years old. The marriage ceremony went on according to both Christian and Hindu customs. The proceedings of the wedding ceremony took place in very simple manner. It was almost like a private affair with close friends and a few relatives at a resort. Rahul Sharma felt the wedding moments with Asin  like holding his world in his arms.
The bride Asin was wearing in a white gown where as  Rahul sported a black suit and bow tie. It was a beautiful Catholic style wedding which gave really an eye feast to all invitees.The wedding ceremony saw the most biggies from Bollywood. All of them wished Asin And Rahul happy married life.
Asin- Rahul Marriage Invitation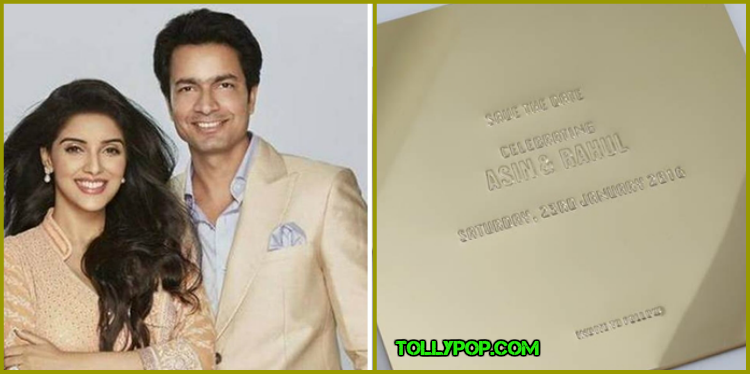 The couple in both Catholic and Hindu wedding Attire.
Asin Wedding Photos
The following Asin wedding photos surely promise the beholders an awesome feel. The marriage photos of Asin and Rahul Sharma which feature both catholic and Hindu tradition leave a wonderful impression on our minds.
Asin Images are simply gorgeous especially in Saree.
Also Check, Film Celebrities Wedding decorations